When you open a business, you want to get your name out there by advertising your business. One of the first ways to do this is with signage.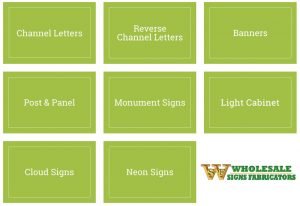 Signage is more than just a necessity. Your sign is your image, and you want to make sure it portrays your business as professional. Your sign helps create the all so important "first impression" for any potential customers visiting your business location. That's why you should always do your research and select an Orlando sign company that creates quality signs.
At Wholesale Signs Fabricators, we believe in customer satisfaction and make it our goal to take the image in your mind and make it a reality. We work hard to set ourselves apart from the competition, not only price wise, but product wise as well. Here are just a few things that make us a great choice for your signage needs.
Production & Manufacturing: Some sign companies outsource their manufacturing to other companies. This is true especially for electrical signs. This doesn't just lead to questionable quality and service, but also can lead to delayed production and/or installation. At Wholesale Signs Fabricators, we do it all, manufacturing, permitting, and installation. AND we are Underwriters Laboratories listed and certified to build electrical signs. Our products are randomly tested by the UL, who has been testing products for 125 years. This means that we adhere to safety standards that ensure your sign is hazard free and built to the highest quality. We take pride in in being UL listed and certified, because most companies don't even have an electrical sign contractor's license! By providing all the services for your signage project, start to finish, we can stay dedicated to a deadline! You won't have to deal with outsourcing delays or scheduling conflicts.
We do it all: Some companies ONLY build your sign. They don't review your desired specifications to ensure your sign meets permitting requirements put in place by your local government. This means that after you pay for your sign, and the sign is installed, you may receive a letter stating it violates code and must be taken down. Others outsource installation to the cheapest bidder. This can leave you with an improperly installed sign which poses a hazard to your business, employees, and customers. Not to mention your sign that you paid good money for! At Wholesale Signs Fabricators, we produce, take care of permitting, and install your sign. We even own all of our own installation equipment. This means your sign will be build to code and installed correctly the first time.
Experience: Our team has over 25 years of combined experience in the sign industry! We have made hundreds of neon signs for businesses all over the country, and even have a Master Glass Blower! But we don't just stop at neon signs. We make all types of signs including banners, magnetic signs, and channel letter signs. We use the most advanced sign fabrication systems to create attractive signage that is also durable. We don't just see our work as a job, we see it as an art, and that's why we use our skill and experience to the fullest on each and every project.
Price: Most entrepreneurs don't realize the high cost of signage. Signs can easily cost half your savings (or more). The cost heavily relies on the type of signs you need, the location, and the company. When considering price, it is important to make sure you specifically ask what's included. Many business owners find themselves going with the lowest price only to later find out that permitting and installation was not included. Or, even worse, their sign ends up being poor quality (which you don't want for your business image). Our name says it all. We are Wholesalers…directly to the public. We beat most comparable competitors pricing without sacrificing quality or customer service. We also offer many "extras" that other Orlando sign companies don't. To find out what free extras you can get for your project, or to see if we can beat a written quote from another Orlando sign company, contact us!
A sign for your business is an investment. Don't trust that project with just any Orlando sign company. Put it in the hands of a reputable, experienced, licensed and certified sign company like Wholesale Signs Fabricators!