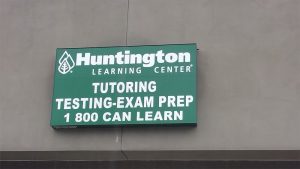 What Is a Lightbox Sign?
A lightbox sign is an electrically-lit sign that encases, suspends, protects, and displays a sheet of backlit film that has a printed image and is meant to illuminate light through the film for enhanced picture brightness, contrast, and color saturation.
Usually, aluminum and acrylic or lexan are used to create lightbox signs for outdoor applications. These materials are both durable and aesthetically attractive, making them a great marketing tool. Now that you know what a lightbox is, here's why you'd probably want to use it.
1. High Return on Investment
The high ROI (return on investment) that lightboxes provide is the primary reason why so many people choose them over other forms of promotions. You can find them all over popular shopping malls promoting sales and special offers.
2. Affordable Advertisement
You can simply buy these signboards online or from local providers, depending on where you live, for less than $100 for custom-made ones. Because of their low cost, you may acquire many lightbox signs to boost your company's visibility.
3. Constant Promotion
Even when you close your business at night, these signs will continue to promote your brand to anybody who passes by. Lighted signages installed on any commercial property will attract customers 24/7. When customers recall the brand's logo, they instantly remember your brand. People will grow acquainted with your lighted sign and, as such, will remember your business whenever they are around it.
Because of their flashy design, lightbox signs attract people and make them want to know more about the business.
4. Provide Information
Lightboxes are great because they may convey important messages to passers-by. As a result, you may inform prospective clients about your company and its offerings and perhaps even convince them to buy (results in more sales and revenue for your business). There are no restrictions on the content of these advertisements; all you need to do is to ensure that the words and images you employ are interesting enough to catch people's attention.
5. Make Your Business Seen
Advertisements have no use unless people can see them, therefore, make sure yours are seen. Illuminated signs are perfect for this job since they're easily noticeable. It's also widely known that the human eye is attracted to light.
One of the biggest challenges faced by advertisers is poor exposure. This can be due to the location of your business. Some areas have less foot traffic than others, while some buildings resemble their environment, causing them to blend in. Thankfully, illuminated displays attract the eye allowing consumers to locate your shop without having to double back on the same street, which might cause many to reconsider doing business with you.
6. Make a Good Impression
Before entering a business, the customer must make a visual purchase. If your company's external image is unappealing, people will often not consider your goods or services. Therefore, you want eye-catching signs to make a favorable impression on prospective consumers. One such asset that does a good job impressing clients is a cabinet sign.
Well-designed signages can help companies to convey the perfect emotions to customers, including friendliness, expertise, and confidence. Customers should get the impression that you offer the services they need from your signs and hence, develop trust.
7. No Construction Needed
Because of constantly ongoing road construction projects, which block off visibility for businesses, certain cities are not ideal for outdoor advertising. With lightbox signs, you don't have to worry about construction projects blocking your advertising since they can be put anywhere, as long as it's legal.
8. Simple Installation
One advantage of lightbox signage is its simple installation. Most come with a pre-drilled frame, so after you purchase them, all you have to do is choose a location, mount it on the ground or wall (depending on the model you choose), plug it in, and switch on the lights. There is nothing complex about installing these billboards; therefore, anybody or any organization can do it.
Lightboxes are useful because of their identifiable and adaptable characteristics. These advertisements will undoubtedly draw the attention of your target market and improve the customer experience. They offer many benefits and, as such, are an ideal advertisement option for many businesses