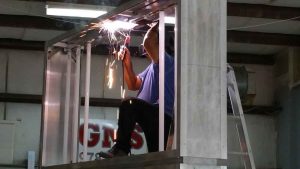 Orlando sign company is a local sign company that offers a wide range of services. Whether you need something simple like lettering on your windows or require an entire sign package, our knowledgeable design staff is happy to assist you. They provide the latest cutting-edge technology and top-notch customer service to feel confident about your purchase. It is a local sign company with an excellent reputation that provides you with everything you need. Their mission is to provide the best sign products and services.
Orlando Sign Company Services
1. Electrical Outdoor Business Signs
Many businesses decide to establish a business by having an outdoor electrical sign. These signs are mainly used for many reasons, such as advertising. This kind of signage is vital for commercial signs as it often provides a way to advertise your company's services and products from far distances. The best thing about outdoor electrical signals is that they are completely customized according to the client's wishes. This operation makes them unique and one of a kind.
2.Channel Letter Signs
Channel letter signs are a unique kind of signage that helps increase visibility and promote the name of your business. They can be hung on a wall or placed on top of it. Various channel letters are available from the Orlando sign company, but they are known for their durability and quality. These letters are made with vinyl material, making them durable enough to withstand harsh weather conditions and other environmental effects. The best thing about channel letters is that you will not have to worry about changing them or repairing them since they are straightforward to clean and maintain.
3.Post And Panel Signs
A lot of businesses use this kind of sign to promote their services. The best thing about these signs is that they provide a lasting impression. Their color contrasts make them stand out and give the message the viewers want them to get. Another benefit of using this kind of sign is that it is easily moved along with your business, and as such, you will not have to worry about it getting damaged by harsh weather or other conditions. These particularly reserved signs are highly durable and can be used for various purposes, such as making announcements, advertisements, display boards, and even trademarks.
4.Monument Signs
Monument signs are the best thing that you can have at your business. These signs offer an elegant and classy look to your business. Monument signs are often used at companies that provide services of a high-quality level, such as construction, engineering, and even architecture. The best thing about these signs is that they can be installed in places such as outdoors, indoors, and even just for branding purposes. Their durability allows you to use them for a long time without worrying about their condition deteriorating or becoming damaged by harsh weather conditions. Monument signs are the perfect addition to any business that provides high-quality services and products.
5.Cloud Signs
Cloud signs are unique signage that you can use in your business. These signs are highly durable and can be used to communicate information to your employees or clients. They are mainly used by companies such as advertising agencies and realtors that provide different services. This kind of sign is better suited for indoor use since it is not very visible outdoors. Cloud signs are one-of-a-kind because of their creative design and avant-garde look, which makes them stand out among other businesses that provide similar services.
6.Light Cabinet Signs
Light cabinet signs are the perfect choice for businesses that provide lighting products as their primary service. These signs can be made out of plastic material and feature various messages to advertise your business. The best thing about these signs is that they are durable and offer adequate protection for the materials used. They do not require much maintenance and are designed to withstand harsh conditions such as rain or cold weather.
Orlando sign company provides signs that can be used for different purposes, from sign cabinets to outdoor electrical signals. Each of these signs is unique and offers the best quality to their clients. Businesses often use these signs to attract more customers and promote themselves. They specialize in making these signs and offer a wide range of services, even for companies just starting. Contact Us today for your free sign quote.