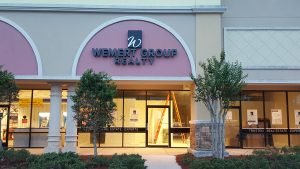 We offer our commercial customers a complete sign package of services to ensure that your decision about a business sign will be protected throughout the design, construction, installation and maintenance phases for your sign. With a package of services, our customers can be protected from problems that could affect the illumination features or safety features of a sign. You should make a careful decision about a new sign but should also realize that we can easily replace the sign if you decide to use a different presentation style with a new sign. We can help you with a complete package of services for your signs:
• Consultation services for business signs.
• Design services for customized business signs.
• Professional services for building a business sign.
• Services for permits for a business sign.
• Installation services for business signs.
• Maintenance services for business signs.
Complete Package of Services for Business Signs from Our Company
The decision about a sign for your business can be simple and can include convenient services that are designed to minimize the number of problems for a customer. Our sign package of services is designed to help you to control problems from discussions with several officials at different agencies because we are sign professionals who understand the problems that affect our customers. We place a top priority on our customer services, our level of customer satisfaction and on the quality of the customer experience.
Design Process for a Business Sign
We can help you to make a decision about a sign for your business with some information about the different styles of signs and information about the features for illumination, such as a back-lit feature. You could experience an emotional response to a sign, such as some peaceful feelings from the subdued effect from the back-lit feature for the reverse channel letters on a sign. The back-lit feature with the halo of light behind the letters is a sharp contrast to the illumination feature for traditional channel letters.
Construction Process for Building a Business Sign
The construction process for your sign will also include feedback from you because we need to know your opinion about our design, which has been developed to accommodate your unique requirements. We can build your sign with special features to enhance the space for the sign, such as on the front of your building, inside a hallway or near your office door. With our expert advice, you can make some decisions about the sign, which could be blue or green to reflect your personal preferences for ocean or woodland colors.
Local Permit Requirements for a Business Sign
Many customers are required to spend several hours researching some information about the local ordinances and building codes that are used to control the problems from signs before those customers can make a decision about a sign. We want to help our customers to avoid those problems and will get the permits for each sign that we install for you, such as at the entrance for your building or on your parking lot.
Installation Process for a Business Sign
You will probably choose a special spot for your sign before you make some decisions about the style and colors for your sign. We can suggest several locations for your sign to help you to visualize the advantages from the different spots, such as on a wall, near a roof or over an overhead door. The sign could be blocked by a tree or a bush if a customer is approaching the sign from your rear parking lot. We can suggest some tactics to use to help you to control those problems for your customers.
Maintenance Procedures to Protect a Business Sign
Your signs should be cleaned and inspected to find problems that could cause an injury to one of your employees or customers, such as a crack in a sign. With regular inspections, we can quickly find some cracks in a sign that had been caused by a hailstorm or by some flying debris in a rainstorm. You can also use our maintenance services to quickly resolve problems from a broken bracket or an unlit channel letter. If a sign is not illuminated, then employees would not be able to see a sign in the dark, such as a sign for an emergency exit.
Our Reliable Services for Your Business Signs
We form a professional business relationship with our customers. You can rely on our services to help you to resolve problems and to enhance the appearance of your building or office. We design our signs to control problems that could cause some confusion for a person who is trying to find a building or an office door. A sign should be illuminated with lights and large enough for a person to conveniently see the sign from a specific distance.
Our Simple Process for a New Sign for Your Business
You could initially make some decisions about a sign, such as about the colors and style of letters. We will offer you some suggestions and will also help you to resolve a problem, such as from a color that may not be suitable for the front of a building. Several shades of pinks and greens have a high visibility factor, such as neon pinks and greens, which could be suitable for a building that is surrounded by pink flowers, green trees and green bushes. With our sign package of services, you can simplify the process for a new sign.