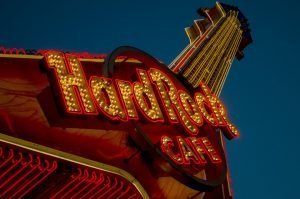 Marketing professionals will agree that your company needs to find a way to aesthetically appeal to people in order to draw in new customers. People that walk and drive down your street are busy with their own businesses and tasks, so they might not even realize that your company exists. Let the neighborhood know that your company is around to help by ordering an electric sign. Hanging an electric sign in front of your business will let your neighborhood know that your company has proudly opened its doors.
There's no reason to hide the fact that your company is open for business. Your neighbors might be wondering why there aren't any customers in your store. If you're tired of being the only person in your store during business hours, take time to read about the ways that an electric sign will attract more business to your shop. Electric signs are a fun way to broadcast your brand's image to people on the street. If you're not advertising your business to consumers, your company might not be able to stay open for long. Show the world that your company is ready to do business with a beautiful electric sign.
Reason for a Sign #1: Make Your Shop Look Hip When your business feels like an old habit, an electric sign might inspire you to make new, creative choices with your company. When you get tired of looking at the same old building, take initiative to spruce up the look of your shop with electrical signs. The front of your shop has been in need of a serious facelift. Chipped paint, dirty walkways, and other aspects of the building may be out of your control, but you have the option of upgrading the signage used on your building.It's the building owner's job to keep the paint looking fresh on the exterior of the building, but you have some options to make the storefront of your shop look inviting to guests. If you don't own the property where your shop is located, you should get in touch with the building owners about any issues dealing with the exterior of your shop. However, you are capable of influencing the aesthetic appeal of your shop with a sign from Wholesale Signs in Orlando Florida. Make your shop a hip place to visit.
Reason for a Sign #2: Colors Show Off Personality In the highly technical world that we live in, many business owners are concerned with branding and marketing through social media and search engine optimization. However, it's important to keep targeting local consumers with branding messages that make a big impact upon consumer shopping habits. Consumers in your area will be impressed by the colors in the electrical signs placed on your building.If you are willing to be tactful, you could consider the upgrade of using an electrical sign as a way to satisfy branding needs of your company. The colors and the font that you choose for the electrical sign will send messages to your customers. Be sure to pick a sign that is in line with the brand that you are representing in your community.
Reason for a Sign #3: Brand Image Matters The image that people associate with your brand will help align consumer expectations with your product offerings. If you want your company to be known in your community, the use of electrical signs will help reach the eyes of new customers. Additionally, using an electrical sign could help relay important ideas that your company embodies. For instance, a technology company should consider relaying the idea that their brand is technologically evolved by introducing the dazzling lights from Wholesale Sign Fabricators an Orlando Florida Business Sign company.
Reason for a Sign #4: Let Them Know You're Open for Business The worst feeling any business owner will experience is the feeling that their shop is invisible to consumers. People will pass by your store on their way to other engagements. However, it is an awful feeling to have nobody in your shop for hours on a busy day. The streets are crowded outside your shop, but everyone seems to have something else to do. It's time to pull in new customers by placing some electrical signs on your building.
Reason for a Sign #5: Appeal to Younger Audiences If you are tired of missing out on selling to a younger demographic, then it's time that you learn to speak their language. When you were younger, you must have enjoyed some of the same things that young kids like about life. Did you ever visit an arcade to play pinball when you were young? The bright lights must have pulled you to the game rooms at some point. When you put colorful electrical signs on top of your building, you are attracting this same type of youthful energy to your shop.It's time to open your shop's doors to a new generation of customers. Your old customers will learn to love the new colorful signs that stand in the door to greet passersby. The old customers will feel like they were trendsetters when they see the hoards of young people that will flock to your shop to see what's inside. Dazzle the eyes of every generation of shoppers with beautiful custom made business signs.
When your company needs to find more customers, it's time to upgrade the signage. The old paper sign that you taped to the window to let people know that your shop is open has finally met its match. Your customers will appreciate this investment because they will know when your shop is open without looking to read the business hours printed on the door. Additionally, new customers will appreciate the invitation to stop into your shop to check out your goods. It's your responsibility to make the store look good, which includes welcoming people to your shop with a beautiful electrical sign. We are licensed, Insured, and bonded so give us a call today for all of your business sign needs.