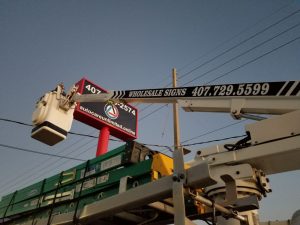 When looking for businesses in or near a particular area, one of the first things people notice is their business signs. A company with an exciting logo or unique signage tends to stick out in someone's mind. Fortunately, there are many ways we design and make custom business signs for any business you may have here in Orlando Florida.
What Are The Benefits of Custom Business Signs?
Custom business signs are the first thing people see when they pass by your business location. Visibility is paramount for any business, and customized signs will leave a lasting impression on customers and potential customers, increasing brand recognition and visibility among others in the area. With customized signage, businesses can stand out on a crowded street by using bold, attention-grabbing designs. Custom business signs are great for increasing traffic to your business, as they can direct people to your location and make them more aware of your business.
Types of Custom Signs You Can Get
Window Signs – These can be used to advertise sales and specials, promote your brand, or just something to catch people's attention.
Window Decals – These are great as they don't require any adhesive, which can damage the paint and cause other issues. They are easy to remove when you want to change them out.
Window Clings – Clings are another sign that doesn't require any adhesive and is easily removed when desired.
Window Lettering – This is when you put letters or words inside your windows. You can spell out a word that names your business if you have multiple windows.
Window Foils – Foil signs are another option for advertising in your windows.
Window Banners – Banners are used inside or outside windows.
Window Flags – Flags are another type of sign that can be used indoors or outdoors.
Door Signs – Likewise, there are tons of different options when it comes to door signs.
Wall Signs – These can be used inside your business to advertise specials or the products you sell.
Wall Letters – Wall letters are similar to window letters, where you can spell out a word or name.
3D Animation Signs
These signs work by projecting images onto a screen that is usually on the front of your business. The images are automated, so they change whenever you want them to, helping you to advertise your products or specials. These signs work best for businesses with products that need to be explained or have much information. While these signs aren't always the cheapest option, they can benefit your business and brand if done correctly. You will want to make sure you have a professional design of the sign or hire someone that knows what they are doing. If you try to do it yourself, you risk making it look cheap and unprofessional. These signs work best for businesses that sell products requiring much explanation, like auto shops and car dealerships.
Electronic LED Signs
These signs resemble 3D animation signs in projecting images onto a screen. The main difference is that they use a combination of lights and words. These signs are fantastic for businesses that are in high-traffic areas. These signs are great for businesses that need to catch the attention of drivers on the road. These signs are helpful for businesses like restaurants and gas stations that need to notify drivers of specials they have. These signs are easy to shop around for and are usually cheaper than 3D animation signs. You can get a similar effect as the animated signs, but more affordable. These signs are a great option if you have a business that needs to get drivers' attention. These signs work best for businesses in high-traffic areas or businesses that need to get drivers' attention.
Conclusion
Signs are a great way to advertise your business, and customizing them for your specific company is the best way to do so. We have different styles and designs at Orlando Florida, sign company. You will find something that will fit your business. From letters to 3D animation signs and everything in between, you can easily find the perfect sign to fit your business. These signs are great for roadside businesses, storefronts, and even internal communications within your company. Contact us at the Orlando Florida sign company for any enquiries or bookings.