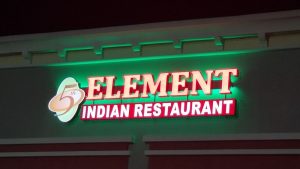 Wholesale Signs Fabricators is a full-service sign company now serving Central Florida Orlando. Our team has over 25 years of experience and the abilities, expertise, and equipment to bring the most exceptional dreams to reality. We provide a variety of goods to help you take your company's marketing strategy to the next level.
Businesses want to advertise their products in the most visible and accessible ways. A business sign can reach a wider audience than a web banner, and the message is always there when you need it. With our outdoor electrical business sign design services, we build you an attractive and informative sign that is built to last.
Regardless of your budget or location, we can help you advertise with a DIY look that brings more attention to your company. We use high-quality materials and workmanship to ensure that you are pleased with your custom sign and that you're advertising budget is used most effectively.
Why Your Business Need Outdoor Electrical Business Sign
Custom-made Outdoor Electrical Signs can cost less than a web banner. Depending on the size of your business, you may be able to get multiple signs for the same price as a Web Banner.
When a business is looking to attract customers' attention to their products – or even more important – their services, you can bet that their signs will be noticeable and eye-catching. Your business may not have the budget for full-blown billboards, but you should still be able to get an excellent exterior sign.
Here are some things to keep in mind if you are getting an Outdoor Electrical Business Sign for your business.
There are many kinds of Outdoor Electrical signs which are made of different materials and sizes. It is reasonable to choose a highly visible sign made of materials that will last several years.
Our outdoor electrical business signs can be delivered in less than a week, and this includes the time it takes for you to review the custom sign design and approve it.
DIY outdoor electrical business signs are great for businesses with regular hours, such as restaurants or convenience stores, which want to create buzz about their business at night. A sign with bright, colorful lettering is a great way to draw attention to your business.
However, businesses that are open 24 hours a day or are in high-traffic areas may want a custom sign that they can rely on to attract customers when they need it most. Custom signs from Wholesale Signs Fabricators can stand up to the elements and will be there for you when your business needs them.
Why Choose Us?
We have a full range of outdoor electrical sign design services, including design, fabrication, and installation. All you need to do is choose an outdoor electrical sign that perfectly fits your needs and budget.
Our customer service staff will work with you every step to ensure that your outdoor electrical business sign is built exactly how you want it.
We strive to provide high-quality products and services at affordable prices. With each custom-made exterior sign we build for you, we will include a warranty on all materials. If you don't see exactly what you want on our website or need a customized sign that is a little different, we can work with you to create the perfect sign for your business. We believe that our greatest assets are our high-quality items, craftsmanship, and outstanding customer service. As a UL Listed Manufacturer, you can be confident that quality is always our top focus. As Electrical Sign Contractors, we have the skills and qualifications to complete the work correctly. WSF Signs is licensed, bonded, and insured.
We produce all of our signs in our manufacturing facility to keep costs down and ensure that you get exactly what you are looking for. We help big corporations and other local and national sign firms with the creation of their signage initiatives. We can assist with permitting, fabrication, and installation. Whether you need little or large signs, our knowledgeable staff can assist you in making the right option based on your needs.
If you are looking for an outdoor electrical business sign, we can help. Don't hesitate to get in touch with our customer service department to discuss your needs with a staff member. We will work with you to create a quality custom sign at an affordable price.