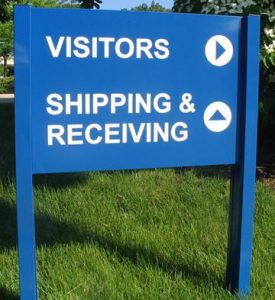 If you need to advertise your business or event, consider the option of outdoor advertising. We construct post and panel signs for your business, which are more effective in many ways than any other billboard form. The billboards are designed to give customers the feeling that they need or want something from the sign rather than just a picture of it. For example, an auto dealership's post and panel sign might have a car with colorfully written text promoting their sales or specials. Getting a professional look for your business or event is essential for advertising purposes, and we will help you achieve that look. We design and build all types of outdoor signage, including post and panel signs. Your outdoor advertising can be done in a variety of ways. We produce custom-made signs that are best suited for your business or event.
Spark the interest of buyers or tenants with informative post-and-panel signs
The importance of outdoor signage is often overlooked as a viable marketing tool because people are used to seeing it everywhere. However, outdoor signs can capture attention and get results when done well. But when done poorly, they can turn people off and do more harm than good. Fortunately, some general design principles can help make your signage more effective without adding high costs or requiring any specialized training to understand. This post will focus on what makes for effective outdoor signs from the perspective of design elements. There are different types of signs and other applications. Some design principles that apply to one kind of sign may not apply to another. What's most important is to respect the purpose of your sign and ensure it has clear, concise messaging that hits the right notes with your audience in a design that catches their attention. Below are some of the Post and Panel Signs For Your Business available :
1. Commercial sign panels
Custom business signs convey a message about your business. Our panel signs are laser cut and can withstand harsh weather conditions and thousands of pounds of pressure. They are made from high-quality materials and give any custom sign the highest level of durability. Stores, offices, coffee shops, and schools can use post and panel signs for the exterior building exteriors. These exterior signs effectively reach people and uniquely announce your business.
2. Real estate signposts
For customers to notice your property more, posts and panel signs work great on the walls around your home. These panels make your property stand out from others and catch the attention of potential buyers. Homeowners who want a new home or commercial buildings can use these signs for advertising their property. If a buyer or tenant is looking for a real estate agent, you can list yourself as an agent in most cases on this type of signage. These are for tenants to show their preference for finding a place to stay among other similar properties in terms of price and location. They are also great for property managers who want their rental properties to stand out from others in the same area.
3. Construction project signs
Temporary, custom-made signs are great for construction sites. We build these projects with materials that withstand rough weather and high-traffic areas. These signs make your project stand out from the rest and catch the attention of potential workers. People can choose from several colors and different types of panels to fit their needs. Unlike business signs, these temporary signs are designed to be maintained and kept in good condition.
Different choices among our custom post-and-panel signs
We offer several a variety of customized signs for your business. Below are some of the types we offer:
1. Alumalite post-and-panel signs
These panels are made of aluminum and high-density plastic filler. They are the most durable aluminum panels on the market and can withstand any weather conditions. They are ideal for outdoor use because they do not rust, making them highly visible and long-lasting. The panels are laser cut and withstand harsh weather conditions and thousands of pounds of pressure.
2. Aluminum post-and-panel signs
Often used for building site identification, these are perfect for construction, manufacturing, and commercial projects. These can be installed quickly, unlike other types of panels. They are available in all shapes and sizes. Sometimes referred to as dimensional signs, these panels are made of aluminum. They stand out as a bold display that is sure to be noticed by potential tenants or buyers. This type of signage is perfect for real estate agents looking to advertise their property, builders looking to attract new tenants, and more.
3. MDO post-and-panel signs
Medium-density overlay panels are perfect when you want to display a large amount of information on your sign. The panels have a glued laminated surface that can withstand weather conditions and is highly resistant to rusting. They are ideal for outdoor use because they do not rust, making them highly visible and long-lasting. The panels can be used for indoor signs or outdoor business signs, or advertising rooms at an event.
An expert sign can get your message out efficiently and effectively. Dynamic, clear messaging is most important for effective outdoor signs. With this in mind, we can design and build the exact type of signage you need. We will work with you to create individualized signage that best suits your needs. For more information about post-and-panel signs for your business, contact us today! We would love to hear from you!