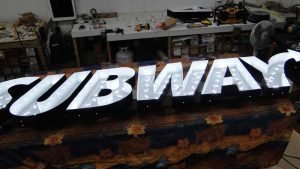 Electrical signs are the best way to guarantee that everyone who passes by your place of business will remember your name. With signs, you have a blank slate to work with in expressing your creativity as a business owner. You may choose to portray your specific brand in as little of a description as possible.
Signs for businesses are generally only viewed for a few seconds as people pass by in their cars. Most businesses, you may have noticed, tend to opt for signs that are singular standing and do not have many bells and whistles to them. Less is more in most cases, but advertising is not one of them. If you are trying to catch someone's attention and have only a few seconds of an open window to do so, then you will want to take full advantage of that short amount of time. This is where customized electrical signs come in to the picture. There are plenty of reasons why you would want to invest in a custom sign for your own brand.
Here are some of the key reasons why custom electrical signs are good for business:
Memorable
Professional Appearance
Personalize
Fun
How are Electric Signs Memorable?
Electric signs really pop. As you have likely noticed, it is difficult not to turn your head and get a good look at a lit sign sitting in the corner of your eye. How many signs do you think you never even glance at that aren't lit up? Electrical signs are a revolutionary way to shine in such a way that people will notice what you are all about. Most of the most iconic signs in history were neon signs and other types of electrical custom signs in some of the most famous places in the world. Imagine if your very own custom sign was the next big thing for tourists to see when walking down the city's strip.
What About Electric Signs Gives Off a Professional Appearance?
Nothing shows that you care more as a business owner than investing in ways to improve the appearance of your business. When you put good money in to accessorizing the place, it tells customers that you care about where they spend their time and hard earned money. It adds value to the property in the eyes of your clientele. A regular sign is easy enough to get, but an electric sign is more solid and set into stone. Customizing your business in this way really shows how much you are willing to invest in not only the appearance of your business, but in your brand as a whole. When you purchase something that is of a higher quality than a generic unlit sign, then you are showing promise for the future of your business overall. In other words, it shows that you make wise business decisions. Rather than purchasing a cappuccino maker for the back room, you are investing in something that will stand the test of time.
In What Ways Do Electric Signs Personalize Your Business?
Electrical signs have full customizing capability. This means that that sky is the limit with what you can turn into an electrically lit up sign. Some business owners tend to go the more simplistic route, which works great. Others prefer to flex their creativity and give their sign some personality. When you infuse personality into your electric sign, what you are doing is placing a piece of your vision into the very first thing that your customers will see when they approach your business. How you choose to customize your personalized sign will show some of your own personality as an individual, due to what creative decisions you end up making. If you choose to go with a designer for making your decisions, then they can also attempt to fit exactly what you are looking for in a choice of design.
Why are Electric Signs Fun?
Lastly, electric signs tend to infuse a bit of fun and whimsy into the workplace. It can show customers that there is a fun atmosphere to your place of work. Electric signs can be designed to be more simplistic, but they can also be customized to present a more laid-back and fun atmosphere for your clients to enjoy. Let's say that you are a cafe owner and you are looking for an Americana inspired electric sign. You can choose to customize your personal sign through our services with a retro design in mind. This retro design might be seen as comforting for many of your customers and will incite a sense of wonder in all who walk through your doors of business.
Hiring a sign fabricator shouldn't feel like pulling teeth. It is quick and easy to get a quote from a custom sign working professional. All you need to do is have a design in mind and you can start working towards the custom sign of your dreams today.
Do you know what type of sign you are interested in? There are many available for customizing:
Channel letters signs are some of the most common types of modern electric signs. If you are interested in a custom channel letters sign, then expect nothing but the highest quality of LED lighting available on the market today. Channel letters allow you to customize your brand name in a way that is simple and to the point. You can choose from a wide variety of color schemes to really make your company's name pop. This type of electric sign is eco-friendly and allows for full customization for your logo, font of choice, and sizing preferences. Branding with channel letters will undoubtedly add value to your business. Through successful branding you can ensure that your proper signage needs will be met, while also providing your invaluable customers a familiar name brand to always be on the lookout for when they're next in need of your product or service.