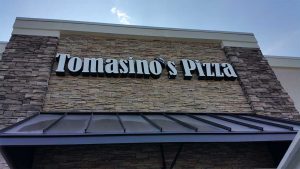 The outside of your business's building should speak to what is inside. You want customers to be able to find your business easily when they know its name and the general location of it. We help businesses in Orlando Florida by building channel letter signs and putting together signs that makes the building holding your business stand out. We make it easy for you to get set up with the exact type of sign that you want to have.
Our Team Works with You to Figure Out What You Want:
If it is your first time getting signs made for the outside of your building, you might feel nervous about the decisions before you. You need to decide on the colors that you want used for your sign and how you want the layout to look. We will work with you to help you create a sign that fits with your business and any logo that you might already have designed. We will make sure that your sign is the right size, and we will help you decide on a font to use for the sign. We want you to have fun while working on your channel letter signs, and we will be with you every step of the way as you make decisions regarding signs so that you don't feel alone.
We Make Channel Letter Signs in All Sizes:
A large building has space for a sign with letters that are large, while a smaller building does not have as much space available. A business with a short name might choose to use a sign with large letters, while a business with a longer name or more information to share might choose to go with a sign that uses smaller sized letters. We can make your sign in the size that will look right on the building where it is going to be put up. If you share a building with other businesses, we'll make sure that your sign fits with the sizes of the other signs on the building.
We are Interested in Seeing Your Business Grow:
We enjoy the process of building channel letter signs, but we also enjoy seeing what comes about as a result of the signs that we create. We care about your business, and we hope that our signs can help it grow. We create signs that draw customers in, and then we watch to see how the signs affect your business. We build a relationship with you and are always ready to help out if you experience issues with your signs or you expand your business and need to have additional channel letter signs built.
You Can Check Out the Signs We Have Made for Other Businesses:
If you are curious about our work and interested in seeing what we can actually do, we can direct you to some of the signs that we have created in the past. As you look at the signs that we have created for other Orlando Florida businesses, you will see what we are capable of and some of the big names that have come to us for help. We are proud of our past work, and we would like to share that with you.
When Speaking with Us, You Will Always Receive Courteous and Professional Responses:
As a leader in a business, you deal with many types of people. When you reach out to our team, we will treat you kindly and be polite. We will let you ask questions without making you feel like you are being a bother. We will be respectful of you and always provide you with professional services. We understand that you can become frustrated because of the many organizations that you have to talk with, and we want to make each experience go well when you reach out to our team.
A unique sign sets your business apart. A well made sign helps you draw attention to your Orlando Florida business. Our team is excited to sit down with you and start sketching out plans for the channel sign that you are looking to have made. We are creative and professional, and we are ready for any size job.