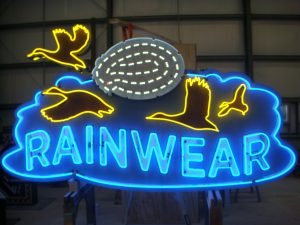 This art of sign advertising has been around since the beginning of time. Even the cavemen understood the importance of pictorial messages. Sign permitting is the process of getting permission from the city to put a sign in front of their business. Restaurants and other retailers know the value of a good signage and what advantages it brings to the business.
Signs Carry Burdens of Responsibility
Some companies rely on more than just advertising to sell their products and services. They also target those who pass by, whether by vehicle or foot traffic, to increase their customer base. Thus, your sign designing efforts are vital components that carry your corporate identity and branding. Imagine such a small piece of panel doing great work and bearing this huge responsibility.
It is essential to have a good eye catching sign that will attract attention. On top of that, it must be visible and readable even from great distances. It is crucial to craft an important logo for your company. This is necessary because these logos will be placed in all products like napkins, place-mats, mugs, menus, business cards, and the like.
With so much at stake, seeking professional help in the initial stages of branding is a necessary component. Of course, if you're a graphic artist on the side, then it won't hurt to do your own sign designing activities. But if you're clueless in visual arts, a pro is the way to go.
Signs are Not Created Equal
Keep in mind, not all signs are created equal. Some may look good in small paraphernalia but won't work when emblazoned on top of a building. Seeking advice from a graphic artist will help you find the balance, saving you time and effort.
Some things to consider when crafting your sign:
Colors
Font style
Images to include
Materials to use
Size
Where to place
The reasons why a business should invest on sign permitting are many because there really are a lot of advantages in utilizing custom signage and having the proper permits is a must. Being able to maximize its potential has a significant impact on your business because it could translate to more profit. And monetary rewards and building a loyal client base are just some elements that define a business' success.
Signs Increase Brand Exposure
A good signage will help your company increase its brand exposure. Remember, signs contain the company logo which only serves to reinforce the brand. The visual element is always the primary consideration when you start a venture because it is the first thing that people see. It has the capacity to make or break your business because as the saying goes, first impressions last. And you want your clients to have a good, lasting impression of your business, but before this can happen, you have to first captivate their attention with an awesome sign.
There are a variety of signs that can be used for indoor or outdoor purposes. Signs can be mounted to ground, can be mounted on a wall, or can be mounted on top of a building. Wherever you choose to place it, the sign screams your brand loud and clear. On top of that, signs can draw attention to possible promotions and other pertinent information about the business. Thus, it is critical to choose the right dimension, mounting, and visual elements so that it can aptly carry the message you want to disseminate.
Signs are a Form of Marketing Strategy
Signs are one of the most important marketing strategies for business. Aside from promoting branding, it is also a form of advertising. They somehow become pseudo inanimate sales associates of your business. To illustrate, you're driving down the freeway. From miles away, you see a billboard sign of a restaurant with its logo clearly emblazoned. The picture of the mouth-watering steak makes you salivate and your stomach grumble. You then decide to take the nearest exit leading to the restaurant. Presto, a simple sign makes the sale!
A signage is a very cost-effective marketing strategy. There may be an initial investment in getting the panels made, but once the signage is up and running, you're good to go. Installed in on top of your own restaurant or retail shop, there will be no further costs. It will be there working its job to advertise your company 24 hours a day, 7 days a week, even through inclement weather. Aside from being visually prominent, because of its vibrant colors and stylish design, it promises to be a strong continuous and consistent marketing force.
Signs Offer Differentiation
A customized design will of course help you set yourself apart from your competitors. Imagine, you and your competitor both sell perfumes. What will you put in your sign to drive the customers into your store? Exterior signs help catch the eye and have the capacity to give the vibe of your business in a matter of seconds. It also has the capability of differentiating landmarks and locations.
As for interior signs, they help customers find merchandise, especially if the store is huge. With many products, interior signs can even give more information regarding specific items. Interior signs can also help in advertising promotions, especially when they are set-up with elaborate product displays. Signs are vital to any business because it will help make you stand out from the rest of the pack.
Signs Hinge on Location
Location is an extremely important component in sign permitting. Where you choose to put your sign is where the branding happens. People who often walk by or drive by your sign's location will begin to know your company and what you offer. These people will eventually become your loyal clientele.
With location, there are two essential factors to remember. First, you should have a signage in the vicinity of your business. People often shop and eat near the place of their residence. Having a few signs put up in a certain radius with your business at the center will prove to become profitable. A study indicated that 76% of clients visited a store they had never heard of before because of a sign that they followed.
Second, a signage on site is very critical. Choose your design, images, and colors wisely. Sometimes, using the wrong font is enough to turn off a potential client. So much hinges on the sign you put up. The same study revealed that 75% of people recommend a business based on the quality and look of the signage they see.
Signs Rely on Size
The size of the sign matters tremendously. On top of that, your size must be viewed in place of other objects near it. The writing on the sign itself matters a lot because it is what people will make the effort to read. Is it easily understandable? Can everything be read if you are driving by quickly with your car?
A sign is not a diamond where bigger is always better. Sometimes, when the signage is too big, it serves only to distract from the message you want to disseminate. You have to balance the size based on the location of where you intend to put the sign. At the side of a building, you can probably use a bigger design, but at a small intersection, a smaller one might work better in drawing the eye. And that is the name of the game in signs—to catch the eye, to catch their business, to catch the profit.
Keep in mind, size is not something you joke around with. Some cities have ordinances that restrict the dimension of signs and billboards. Federal regulations when it comes to advertisement outdoors must also be considered. You sign will be rendered useless if you don't abide by the laws and regulations of the location. After all, the most important aspect of a sign is to make sure that the message contained within it is heard loud and clear.
Sign Styles
Currently, digital signs are the in thing in this modern world. Traditional billboards and posters that relied on banners being pasted have now moved to a digital platform. With the advancements in technology, digital ads are no longer as expensive. In fact, they may cost just as much and are way less expensive and easier to maintain. You can also change the message easily with a computer, as opposed to a traditional sign where everything must be removed, repainted, and replaced.
That being said, both traditional and digital signs have a place and use it today's market. Digital signs may not work so well for retail boutiques in a mall. Along the highway, where vehicles quickly zoom by, an interactive digital design may not be the perfect choice because people do not have time to read its fluttering content. Knowing your market, location, and goals will help you choose the best sign for your company.
Final Word
Of course once you have decided on what design layout you want, it is prudent to choose the company who will craft the sign for you. In Orlando, Florida, Wholesale Sign Fabricators is the go company who can meet your expectations. They are an Electrical Sing contractor, full licensed an insured with their products carefully inspected by a third party facility. On top of that, they have decades of experience under their belt. Rest assured that they have the talent, equipment, and capacity to to turn your design visions into reality.