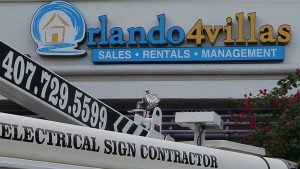 Everywhere you look, there are signs on every street corner, building, and road throughout Orlando, and the rest of the world. Signs are a universal language that helps people get to where they're going, where the food and gas exits are, and a vast number of other important criteria. However, if you're already running a brick-and-mortar business or are planning on starting one?
There are three key considerations to think about when it comes to sign fabrication for your business:
1. How do you maximize your business's market strategy and get customers over the threshold into your business?
2. How can your sign set your business apart from the competition?
3. How do you plan to use your business sign?
Here at Wholesale Signs Fabricators, we're an Orlando sign company that specializes in sign fabrication that's designed to maximize your business's market strategy and get the people you want inside of your business to open the door. It's also been our experience over the last 25 years in the industry that customers are more likely to go to a business they already know or heard about. Having a sign for your business can open the door for new customers, but it can also lay the foundation for returning business, which in today's economy is everything.
What is the Primary Function of a Business Sign?
Signs are important for any business because it's how customers find and remember your business. A business sign is like having a salesman who never goes off the clock and works 24/7 for your business. After the initial cost of fabricating your sign, installations, and permit fees, it's just a matter of utilities if you select a lighted sign. A well-designed sign for your business will virtually pay for itself over a period of time, leaving nothing but profits moving forward.
Being a professional Orlando sign company, we believe in a diversified market and our services include:
Post and panel signs
Neon signs
Cloud signs
Cabinet signs
Monument signs
Banners
Reverse channel letters
Channel letters
Types of Business Signs
There are basically two types of exterior business signs, and they can be classified as either building-mounted or ground mounted. Building-mounted signs are generally secured to the exterior of a building, and they work quite well in areas with heavy foot traffic like downtown shopping districts and shopping malls. Ground-mounted signs come in all shapes and sizes and are typically placed near the entrance to attract passing motorists.
Since we are a complete Orlando sign company, we also specialize in banners, magnetic signs, and channel letters. We can create and install your signs, and we handle the entire process from start to finish. What sets us apart from our competitors is our outstanding customer service and attention to detail. We also understand that we're not the only Orlando sign company in Florida; therefore, it's imperative to our reputation to be the best at what we do. We also offer affordable package solutions, and if you can dream it, we can design in our state-of-the-art facility.
The Significance of a Business Sign
Business signs are a vital component of any business's marketing strategy. Signs that contain your business's logo can help cement your brand. Signs can also be utilized to convey information and draw attention to your business. Exterior business signs are very important because they can be seen 24/7, and their effect is nonstop.
Benefits of Business Signs
Some of the biggest benefits of a business sign are for companies with limited marketing funds. They can be a very cost-effective medium of marketing. When it comes to the cost per thousand, which is a common method to analyze the overall cost to reach a thousand new potential customers, a business sign is significantly less expensive than other forms of advertising like television, newspapers, and radio.
Billboards and Mobile Business Signs
Business billboard signs that are strategically placed away from your business can send a concise message to those walking by and passing motorist. Placing magnetic business signs on your company's fleet or personal vehicle can act as a form of mobile advertising. This can go even further by having your magnetic business signs placed on vehicles of friends and family members. The more you get your brand and logo out in public view, the more attention you'll attract to your business.
How Important is the Appearance of Your Business Sign?
It doesn't matter how favored or acclaimed your business may be, the biggest component of your public image is your business sign, so the appearance of your business sign does matter. A well-designed sign by our team of experts can eliminate the need for other and sometimes, ineffective forms of advertising. A sign that not only looks good, but also looks professional can quickly say what you have to offer and who you are as a business.
Just like any other thing in life, first impressions matter. Your business sign's graphic presentation is both vital to leaving a lasting impression for new customers and utilized as a marketing tool that constantly brands an image into your customer's mind, which is the cornerstone for repeat business. We can help you design business signs and logos with your brand's identity or we can create one for you.
Maintenance for Business Signs
Another important aspect that gets overlooked as a business progresses is the upkeep to their business signs. Careless typos, burned-out light bulbs, and tattered signs can send a message that your business doesn't care about its public image, and a lot of small businesses miss out on opportunities for growth and expansion due to ratty-looking business signs. We offer a full-service package for maintaining your business signs and keeping them looking and running like brand-new 365 days a year. You won't miss out on potential new customers on our watch.
Why Should You Choose Wholesale Sign Fabricators?
We live and work in the central Florida area, and we're an Orlando sign company that you can trust. We have a solid track record for outstanding customer service, and our service technicians are not only professional but friendly. We have some of the best designers in the business on our team, and we stand behind every product we fabricate. If you're ready to see what we can do for your business, give us a call at 407-729-5599 or visit our website for more information.