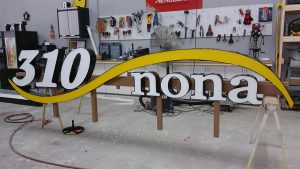 Attracting customers to your business is key for success. One of the most effective ways to increase the visibility of your business is to install an eye-catching, custom-made business sign outside of your building. Business signs are an important tool for gaining visibility, conveying information, and enhancing the overall look of your business. Therefore, in this blog article, we will discuss the key considerations for choosing the right business sign for your building and how it can benefit your business.
There are a variety of factors to consider when choosing a business sign for your building. The most important factor is the target audience. Who are you trying to reach with your sign? Other important factors to consider include the location of the sign, the size of the sign, and the type of sign. Once you have determined the key factors for your sign, you can begin the process of choosing the right business sign for your building.
Business signs can be an effective marketing tool for your business. They can help increase visibility, convey information, and improve the overall look of your business. When choosing a business sign, it is important to consider the target audience, location, size, and type of sign. By considering these key factors, you can choose a sign that will best benefit your business. a business sign's design can have a big impact on how well it works. The colors, font, and images used on the sign should be chosen carefully to capture the attention of your target audience and communicate the message you want to send. The design of your sign should be consistent with the overall branding of your business.
Installing a business sign is a simple and cost-effective way to increase the visibility of your business. By taking the time to choose the right sign, you can ensure that it will be an effective marketing tool for your business. We handle the entire process from design to install. We pull all the permits and handle everything in between. Just give us a call and we will handle the rest. Or send in a form on our website and we will get in contact with you. https://wsfsign.com/contact/