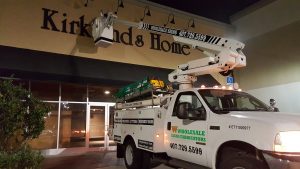 A custom sign can give a typical business an edge in a highly competitive market. Great custom graphics and fonts on a business sign always stand out among generic features on bland signs because custom elements build brand awareness. Our business sign company has seasoned designers who make custom signs for local businesses in Central Florida. If you work with us, you'll have an opportunity to create a sign using a high-quality base material.
Aluminum
Aluminum is a very popular base material for a custom sign. Letters and graphics shine on a glossy aluminum sheet, and any added colors take everything to the next level.
You can hang an aluminum sign confidently outdoors since the material is strong and durable. Aluminum also quite thin and lightweight; however, if the wind blows hard, it won't fly away.
There are different gauges that determine the thickness for an aluminum sign. Extremely thin aluminum signs are frequently used in the real estate market, and they have a .040 gauge. Heavy-duty aluminum signs are much thicker, so they're gauge is .125.
Dibond
Dibond material is slightly thicker than aluminum. On its top layer, there is an aluminum surface that provides an extra layer dimension. A dibond sheet has a plastic core underneath its aluminum layer; this core gives the material depth without weighing it down.
A sign that's made of dibond can be cut and shaped in any size, and it stays strong in harsh climates. Dibond can withstand arctic air in the winter and intense heat in the summer.
Alumalite
If you need a custom sign with a unique finish, you'll benefit from using alumalite. This material is manufactured with different components that provide long-lasting advantages and character. For example, the center of an alumalite slab is made of a hollow ribbed plastic. The core provides strength as it rests between a pair of enameled aluminum pieces.
Vinyl Banners
Nylon threading is used to make vinyl banners. A custom vinyl banner works well in harsh conditions, such as
Frost
Heat waves
High winds
If you only need a temporary sign for a business that's just getting started, a vinyl banner is a practical choice. Slick full-color graphics and lettering on a vinyl banner can help you market a grand opening, weekly promotion, or a major sales event.
Dura-Wood
A Dura-Wood sign mixes the beauty of a rustic slab of wood with the efficiency of vinyl. This material has grains and bumps like a traditional piece of wood. However, thanks to its vinyl characteristics, designers can put graphics and fonts on the finish like a canvas. Dura-Wood is an ideal custom sign option for a variety of businesses because it can be trimmed in any size.
Dura-Wood is weather-resistant, and it's available as a single-sided or double-sided slab. Both cuts can be mounted against a wall or hung on a pole on the side of a building.
We Make Appealing Signs for Businesses
The base material is only the starting point for a business sign. In order to make appealing signs for local stores, hotels, shops, and restaurants, we give business owners opportunities to select from a variety of design options. If you let us design your sign, you can update your building or storefront with
Channel letters: Channel letters pop on the side of a store or building because they're three dimensional. The fabricated shapes can be illuminated, and when they're filled with colorful lighting, they stand out and attract people at night. Illuminated channel letters can shine for hours without increasing monthly energy costs because they're powered by low-voltage LED bulbs.
Neon: A neon sign can attract a lot of attention in a busy business district during the night. The neon effect makes this sign pop by creating vivid lighting that highlights the shapes of letters and graphics. We create custom neon signs for bars, gas stations, restaurants, and other businesses that serve locals throughout the night.
Post and panel: These signs have multiple components. The posts are basically the legs for the sign, and you can adjust their height and width. In the center of the posts, you'll find the panel, which is where we place information about a business. Typically, the post's measurements influence the size of a panel.
Magnetic: A magnetic sign is made of vinyl. On the opposite side of this sign, there is a strong magnetic backing. Because the magnetic material is lightweight and flexible, it adheres well on a variety of magnetic surfaces.
As a reputable business sign company in central Florida, we always strive to provide the highest level of customer satisfaction. This means that we'll go above and beyond to create the best sign that suits your vision and goal. Contact our business sign company today, and let our designers craft a standout sign for your storefront or building.