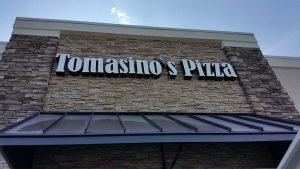 When it comes to marketing your business, a lot of advice you find will tell you how to be found online. While this is important when it comes to establishing your company's brand and selling products, there is another way to attract customers, especially if you have a brick-and-mortar building. To ensure that people can find where you are located, you need to have a sign.
You want your business to stand out, and having the right signage can help with that endeavor. There are many options you have to choose from, including LED illuminated displays, awnings, electronic message centers, signage without any lights and a host of other choices. Finding the right one for your business will depend on where you are located and how much attention you want to attract. However, no matter what, adding signage outside your building is a great way to boost business. Here's how.
1. Lets Customers Know Where You Are Located
Getting customers into your store to buy your products means they have to know where you are located. Even if you put your address online, it's still nice for people to know they are in the right place by seeing your logo above the door. In addition, displaying your name has the potential to attract people as they drive or walk by on the street. If your font and brand are intriguing enough, it may pull people in to see what you're all about.
Drawing customers into your business means you have to be in the right location, but it goes beyond that. Having signage gives people confidence that they are in the right place. A sign is also how you create the first impression people get of your store. If you want to ensure you're making a good one, put new signage on display.
2. Shows Off Your Brand
When it comes to getting signage created for your business, you have the option of getting something custom made. This is a great way to show off your unique logo and add any colors or symbols that people can associate with your brand. If people recognize and trust you, they may be more willing to buy products from you. Letting them know exactly where they can do that is a great way to boost your business.
If you are thinking about redoing your brand to make it more modern and appealing to current buyers, a sign is a great way to show off what you've come up with. People will notice that you have new signage in front of your business, and they may be curious about the change. This could be enough to draw them into your space and encourage them to check out and buy your products or services.
3. Displays Your Viability
Updating your sign into something modern or making some changes to your logo lets customers see that you are changing with the times but still plan to be around for as long as possible. It lets them know that your business is strong and viable. If you have signage that is faded, cracked or has burned out light bulbs, this tells customers a lot—and it usually isn't anything good. Taking the time to invest in your sign lets people know that you care and offer only the best.
4. Signals Growth
In addition to new signage displaying your viability, it can also let people know that you are growing. The longer you stick around, the more chances you have of people trusting and recognizing you as a company that puts out a quality product. Replacing your old signage with something bright and shiny is a great way to let people know that you are doing well and plan to be around for as long as possible.
If your business has been in the same location for a while, your signage will become part of the landscape and give people comfort knowing that you are there. The longer you are around, the more people will appreciate and enjoy what you have to offer. Not only is this a great way to keep customers for life, but you can also attract new customers because of your experience and longevity.
When it comes to marketing your business, there are many things you need to do to stand out. While the vast majority of advice you find tells you to work on your online presence, it's not the only thing you need to worry about. When you have a storefront, you should be looking for ways to attract local buyers. With the right signage, you have the ability to do that.