From Fabrication, Permitting and Installation, we can do it all!
From drawing stage to the completion we have the expertise to get your project completed. Starting with a site survey and ending in a final inspection you will have a single sign company to help complete the process. With our in-house production plant and as a licensed electrical sign contractor, Wholesale Signs Fabricators provides the following orlando sign services with a commitment to excellence.
With a new sign or an upgraded or refurbished sign, Orlando businesses are primed for the impact a high-quality, visually pleasing sign makes on the surrounding businesses as well as the community. When you take an interest in bringing up the local business profile by securing modern signage equipment that improves the curb appeal of your business, you also increase the value of your location. You further show you have a vested interest in how you and your business receive the local community. In turn, the community takes an interest in your business, and it is all due to your storefront sign.
ORLANDO SIGN FABRICATION
We are a complete sign service company and we know how important it is to provide quality products to our customers. Our manufacturing shop is UL Listed approved and inspected. We use the most advanced sign fabrication systems and we have the experience and skill for manufacturing durable signage products. We guarantee that our signs are fabricated with the top quality materials to ensure their durability for many years to come. Production time is also, part of our priority. We are dedicated to meet our deadlines so you can meet yours.
ORLANDO SIGNS PERMITTING AND INSTALLATION
As Electrical Sign Contractors, Wholesale Signs Fabricators specializes on the process of documenting for permitting applications with a complete knowledge of local ordinances and their requirements. We also provide help and support to local and national sign companies in the planning of their sign, permitting and installation needs.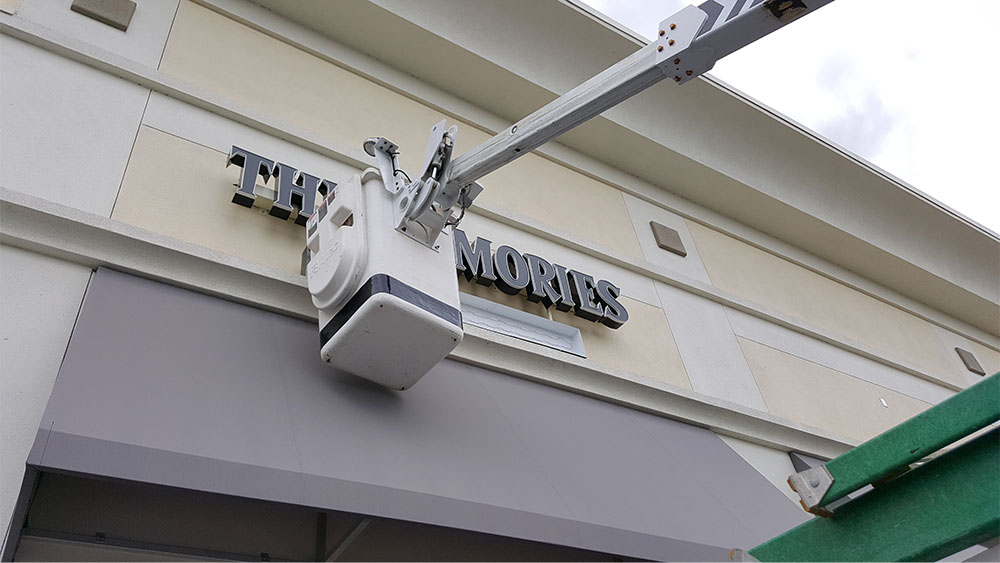 SIGN REPAIR AND MAINTENANCE SERVICE
Whether you need a major refurbishment, a lamp replacement or installation services, Wholesale Signs Fabricators has the capability and qualified experience to accomplish any of your service needs. As time passing by, signs need and require maintenance. We have the experience in the field of electrical signs to provide you with our expertise to repair your sign according to city and county code requirements. We can ensure your sign will operate for many years to come in a safe manner.
Same day sign service is available in most cases. Our service truck carries a variety of the most common materials such as lamps, ballasts, sockets, wiring, and many other replacement parts. This helps us serve our customers faster. We take pride in our work with each and every service call we complete. We clean all the left over waste and clear all debris and scrap, touch up paint, wipe finger prints away and dust if needed it. We always leave the job site area as we found it and strive to leave it clean as it should be.
Make the Most of Your Marketing Dollars
While it may be true that the secret to business success is location, location, location, you can make your location a success with signage regardless of where you are located. Your storefront signage stretches your marketing dollar farther than TV, radio, classified ads and direct mail.
A cost comparison is reflected as follows:
• A single on-site sign will run you $.02 per 1,000 views and remains visible 24 hours a day, 7 days a week
• A 300-line newspaper ad runs $2.81 per 1,000 views, but may only be received by 53 percent of the market
• A single TV ad runs $9.82 per 1,000 views, but may only reach 14 percent of the market
Storefront Signage has the Power to Capture Your Audience
Greater than 85 percent of your customer base is comprised of the local neighbors. They live or work within a 5-mile radius and likely drive right by your store on a daily basis. What better way to remain top-of-mind with the locals? In addition, new neighbors are consistently arriving as people come and go, and their interest will be piqued by the local signage, catching their eye and developing them as new customers.
The professional look a business reflects speaks volumes about the respect that business has for the area. In turn, it can influence other businesses to bring up their end of keeping their shops looking good, too. We often see this effect when driving down a street where all the local businesses have the same storefront signage. Are they all made from banners that are strung up at the tops of the buildings? Some may have nothing more than hand-painted lettering that runs down the facade listing all their services. These DIY signs do not light up at night. They do not create the brightly illuminated lanes that show how much they want customers to find them or let them know where they are.
In any survey conducted on what brings a customer in, the single-greatest percentage of consumers make their decision to enter a store because they liked the sign. Conversely, better than 50 percent of people admit they are not inclined to go into a store with poorly made signage while 60 percent will not enter a business when there is no storefront sign at all.
We are Prepared to Meet Orlando's Ordinance Requirements
We at Wholesale Signs Fabricators know how well a creative, visually attractive sign gives a business an edge over the competition. A sign helps differentiate your business from the others on your street and can be what plants the seed for future sales. We know your local zoning regulations in Orlando and the rules that apply to such constraints as height and width, font size and color, materials used, and any restrictions as to message content.
We can help you save time and the expense related to potential fines and rework requirements by getting your sign right, right from the start. We help you get the customers into your store, and your quality customer service ensures they will keep coming back. We help you develop a strategy to deliver a powerful first impression. Contact us today to learn more about your options in professional, custom-made storefront signage.